Personal Technologies 2002
Mobile Embodiments
Using the mobile phone as a remote control to activate technology in our surroundings

Sponsored By: Interaction Design Institute Ivrea

Interaction-Ivrea:
Analia Cervini, Juan Kayser, Mack Thomas, Jan Christof Zoels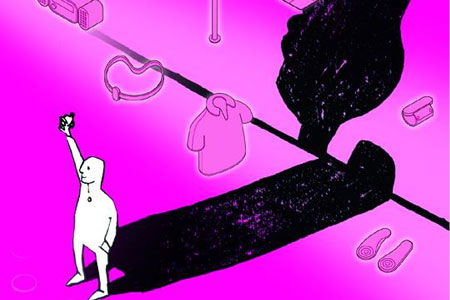 With new broadband mobile technologies, the potential for new services becomes ever richer. There is a mismatch, though, with the trend for ever lighter, smaller phones.

How can we enhance the qualities of expression in an object that by definition should be small, light and portable? What sensorial means does the designer have to express the richness of these potential new services? What new types of service could these new devices offer?

The truly personal digital device today is not the home computer but the mobile phone. In Italy over 80% of the population owns one. It is so successful that service providers want to augment this increasingly smaller device with more and more features, and this tendency will increase multi-fold when broadband and UMTS come along.

The mobile phone may not be an ideal interface to enter and view data, but not everything has to be on the phone: we could use the phone as the brain that can activate and customise the technology in its surroundings, a bit like a remote control.

The Mobile Embodiments team developed more than forty examples using phones in this way. 'Sonic Hub' is a street bench. When a person is called, he can sit down on this bench, and continue his call through the bench speaker system, rather than through the phone. 'Adaptive Ad' looks like a computer screen that runs advertisements, so common in many urban sites. But a phone to modify the ad, and temporarily use some of the screen space to look for a map or a phone number on the web.

Imagine getting a phone call in a busy subway station and using your phone to activate a nearby sonic hub, where you are isolated from the surrounding noise and get much better sound quality.

Imagine being able to use your mobile phone to turn interactive ad displays along the street into a web-browsing tool.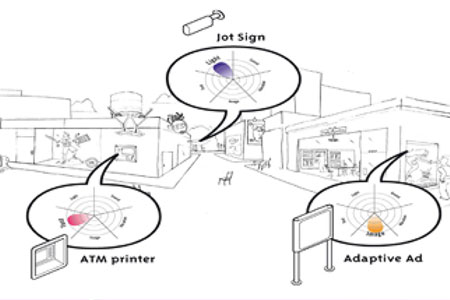 Concept sketches
Related Files
| | | | | |
| --- | --- | --- | --- | --- |
| presentations | web | communication Material | administration | process |
| | | | | |