Connected Communities

How do we manage and visualise information and the ever-increasing volume of information we are all producing? How do we allow people to access it, and each other, from distant places? How to create new forms of communication and interaction via online networks? How can we make the Institute itself and its communication with its worldwide community a case study example of this?

Interaction Design Institute Ivrea is becoming a major hub in the international network of interaction design. It is a school and a centre of design innovation and as such, is in the unique position to be experimental and informative. Interaction-Ivrea is a place for framing debates, setting agendas, sharing knowledge, developing ideas and for education and learning. The aim is to convey these qualities to the online presence of the Institute and to create an online space that enables the international interaction design community to engage each other. The Institute is also interested in experimenting with knowledge representation, as well as designing collaborative online knowledge spaces: e.g. open system architecture, online space forms, central archiving and interfaces such as notice boards, complex visualisations and conversation maps.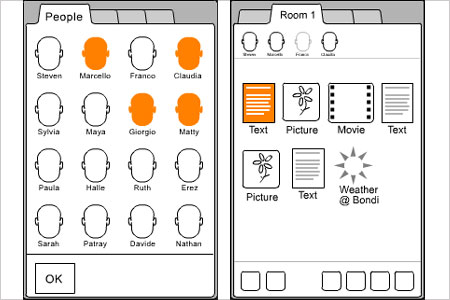 RoomMates, by Maya Lotal, Ruth Kikin-Gil, Steven Blyth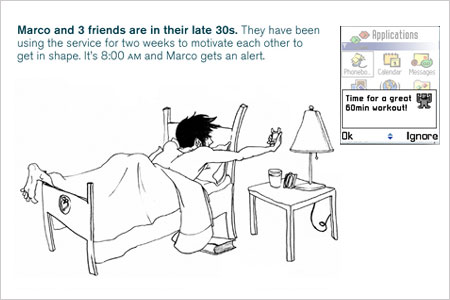 transSend, by Dianna Miller, Jason Tester






Comunita Connesse

Come visualizziamo l'informazione e come gestiamo il volume sempre crescente di informazioni che noi tutti produciamo ? Come permettiamo alle persone di accedervi e mettersi in contatto tra loro da luoghi distanti ? Come creiamo nuove forme di comunicazione e di interazione mediante network online? Come possiamo fare sì che lo stesso istituto e la sua comunicazione con la comunità mondiale diventi un esempio (case study) di tutto ciò?

L'Interaction Design Institute Ivrea sta diventando un crocevia significativo all'interno del network internazionale dell'interaction design. È una scuola ed un centro studi per l'innovazione e in quanto tale si trova nella posizione unica di essere al contempo luogo sperimentale e informativo. Interaction-Ivrea è il posto in cui ambientare dibattiti, stabilire programmi, condividere la conoscenza, sviluppare idee, formare e imparare. Lo scopo è quello di far convergere queste qualità nella presenza online dell'istituto e di creare uno spazio online che permetta alle comunità internazionali del design di interagire tra loro. L'istituto è anche interessato a sperimentare la rappresentazione della conoscenza, nonché alla progettazione di spazi online per il sapere a cui tutti possano partecipare; per esempio architetture di sistema aperte, forme spaziali online, archivi centralizzati e interfaccia quali bacheche virtuali, mappe di conversazione e visualizzazione complesse.